Alibaba again attracted the World's attention by its IPO application to get listed in Hong Kong Stock Exchange. For those who don't know much about Alibaba Group. This post would be of help.
The mind-map gives you an overview of Alibaba Group companies: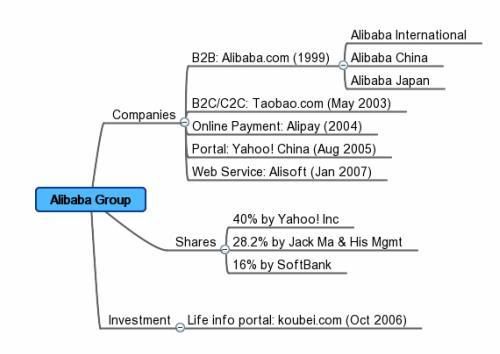 Alibaba.com was launched in 1999 in founder Jack Ma's apartment in Hangzhou as an online B2B marketplace. It raised US$25 million from Softbank, Goldman Sachs, Fidelity, and other institutions between 2000 and 2001. By the end of year 2006, Alibaba International had more than 3 million registered users in over 200 countries and regions. And, Alibaba China had more than 16 million registered users across China.
Taobao.com, a consumer e-commerce website, was launched in May 2003 in Jack Ma's apartment. It has become China's leading C2C and B2C marketplace. In 2006, Taobao's transaction volume reached US$2.18 billion (RMB16.9 billion), up 110% from 2005.
AliPay, set up in 2004, works like an escrow service, solving the issue of settlement risk in China. By 2006, AliPay had more than 33 million users and the daily transaction volume had exceeded US$12.8 million.
Yahoo! Inc paid $1 billion in cash in August 11 2005 to acquire a 40% stake in Alibaba.com. Alibaba aquired Yahoo! China in October 2005 by Alibaba Group and formed a long-term strategic partnership with Yahoo! Inc. Under the agreement, Alibaba owns and operates Yahoo! China, with exclusive rights to the use of the Yahoo! brand and technologies in China.
Alisoft is a leading provider of easy to use, web-based business software services for SMEs in China. It allows customers to access and manage their CRM, inventory, sales, finance and marketing information and communications tools anytime they need via a simple website.
In Oct 2006, Alibaba entered into an agreement for a strategic investment in Koubei.com, one of China's largest classified listing and community websites. With the investment in Koubei, terms of which were not disclosed, Alibaba has gained a significant exposure in one of China's fastest-growing e-commerce segments.