Maryam Kamvar and Shumeet Baluja from Google published a paper on trends in mobile search. These are the key findings:
The average mobile query was 2.56 words and 16.8 characters.
The average length of spoken queries to Google was 2.1 terms.
It takes users a significant amount of time—an estimated 39.8 seconds—to enter these queries.
The time to query was proportional to the query length and ease of input.
The most popular was the adult category, which typically consists of pornographic queries.

The top mobile query accounted for about 0.8 percent of all wireless queries, and the top 1,000 mobile queries accounted for about 17 percent of all cell-phone-based queries.
Only 10.4 percent of queries had requests to display more than the initial set of 10 search results.
More than 50 percent of queries led to a click on a search result. It took the average user 30 seconds to scan the search results before selecting one.
The average number of queries per mobile session is 2.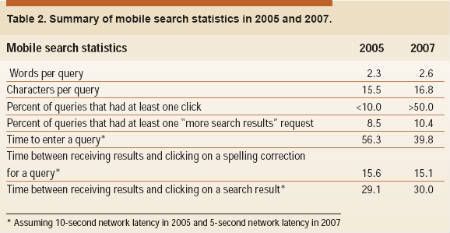 They also compared the mobile search this year with 18 months ago in 2005 and find out that now:
Users type faster
More users are clicking
More exploration within a session
Less homogeneous queries
More high-end devices
More adult queries