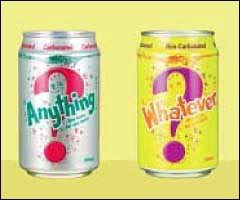 This drink shows up quite recently in Singapore market. "Anything" features six uniquely effervescent carbonated soft drink flavors, and "Whatever comprises refreshing non-carbonated drink. Here is the story behind:
The concept was developed through the experience my friends and I kept having whenever we were out at a gathering, a coffee shop, or even at home. People kept telling us they just wanted 'Anything' or 'Whatever' whenever we asked them what they wanted to drink. My friends and I discussed this and found the concept really interesting. So with the support of my friends, I decided that 'anything' and 'whatever' would be great idea for a unique Singapore beverage.
When I was about to get a can of this "Anything" during lunch today, they were sold out. I saw many people curious to try out this fancy drink. The ads shown in many bus stops did arouse people's "thirst" and curiosity.
Lesson 1: Arouse The Curiosity In People's Mind For Effective Marketing
My friend who tried the drink told me it was just ok. In fact, a product based on the same concept from Meng Niu Dairy appeared in China ice cream market about two years ago when I visited China. It was the first thing my friend introduced to me when we were about to get something for the hot summer. The taste was just fine but not excellent or special. There was nothing special associated with this product but people's curiosity. Now, no body mentions it any more and it becomes "nothing".
Lesson 2: A Product Dies If It ONLY Makes People Curious
The name "Anything" and "Whatever" are fancy words which can easily catch people's attention because they are special. However, products like these are hard to live because they are too common words and the product itself does not provide anything special.
Lesson 3: No Common Words For Brand Names
Is there anything or whatever you have always wanted to have? Enter to find out.
They do have the idea of micro site marketing. They has a teaser site at http://anything.com.sg/teaser.html which is not really a micro site. The worst of all is that when I tried to click the "Enter to find out" link (in both Firefox2 and IE6), it showed a blank page. It is a flash on teaser.html page which does not load properly. Are they telling people that "There is NOT anything or whatever you have always wanted to have"?
Lesson 4: Make An Interesting Micro Site Which Would Spread Your Story
The drink does color people's life for a while. But, how long can this product last in the market after the curiosity diminishes? What have the products brought to make people's lives better?
Lesson 5: An Idea Alone Does Not Sell