Just received an OCBC valentine's day campaign email; even if I like and want the offer, TODAY IS VALENTINE'S DAY! How am I going to get the gift for my darling in time? And, the truth is that I've already got one.
Campaigns for holidays like Valentine's day must be carried out one month in advanced. There are early shoppers who start shopping for gifts early.
Present gift ideas to early shoppers as there are many people like me always need to try to think very hard to get one good gift for their loved ones. Search marketing may not be enough as you can see from the trend history below: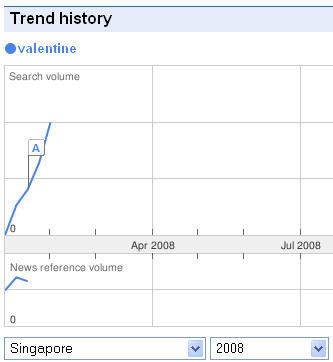 Direct mail, email, banner ads, outdoor display could be more effective.