17.5% of the total world's population, 1.15 billion people, were regular Internet users last year. In Asia Pacific region, the number was 476.6 million, which would top 500 million Internet users this year.
According to eMarketer, nearly half of the world's Internet population will live in the Asia-Pacific region within 4 years. The share of the world's Internet users in Europe and North America will fall, though absolute numbers will continue to rise in both regions, as the share of users in Latin America and the Asia-Pacific region both grow. Take a look at the break down by region: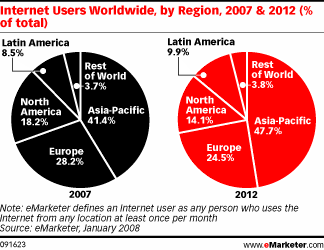 I started my Internet experience from instant messenger in 2000. It's been almost 8 years. You?