Today is my birthday! And, it happens to be a holiday in China too, "Yuanxiao Festival" or "Lantern Festival":
Yuanxiao Festival or the Lantern Festival is a traditional Chinese holiday on the 15th day of the 1st lunar month, fourteen days after Chinese New Year's Day (around the end of January and the beginning of February). In the country and town, people celebrate it heartily. For some reason, there is often a bigger celebration in the rural areas, especially in the North.
Find out more about Yuanxiao Festival here. Google is doing something special today.
Give you some background information first. In China, every holiday or festival, there are many people sending (many are actually forwarding) SMS greeting one another and many people would search for short greeting messages on the Internet.
Let me walk you through what happens in Google if you search for "Yuanxiao Festival SMS" or related in Google China, you would see Google's greeting on top of search results:
Let me do a translation using Google's own Toolbar Translate: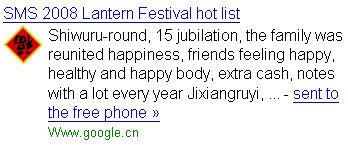 By clicking on the link, you would land on the SMS Hot List page:
Clicking on one greeting would have it displayed to the right in red. The user needs to enter his or her mobile number first and then the verification code (sent to the mobile mobile) to send the greeting SMS. The next month I get back to China, I would definitely try this.
More on Digital Strategies
7 Tips of How Google Translate New Feature