I've introduced Google Trends to see and/or compare trends. Facebook last week launched a similar tool called Lexicon which you can do similar thing. Take keyword "Olympic" for example:
This is the trend for "olympics" from Google Trends: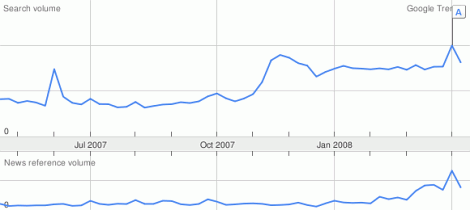 And, this is Facebook Lexicon shows:
About Google Trends (more…)

With Google Trends, you can compare the world's interest in your favorite topics. Enter up to five topics and see how often they've been searched on Google over time. Google Trends also shows how frequently your topics have appeared in Google News stories, and in which geographic regions people have searched for them most.

Google Trends analyzes a portion of Google web searches to compute how many searches have been done for the terms you enter, relative to the total number of searches done on Google over time. We then show you a graph with the results — our search-volume graph — plotted on a linear scale.
About Facebook Lexicon (more…)
Lexicon is a tool to follow language trends across Facebook. Specifically, Lexicon looks at the usage of words and phrases on profile, group and event Walls. For example, you can enter "love, hate" (without quotations) to compare the usage of these two words on Facebook Walls. You may enter up to five terms, where each term can be a word or two-word phrase consisting of letters and numbers.

Lexicon shows the number of users that posted each term per day on a profile, event or group Wall. It does not count repeated terms by the same user on the same day. This is to account for the seasonality of Wall posting in general; for example, there are fewer overall posts in the month of December. The text of each Wall post is also "cleaned" before it gets counted.
Google Trends is a general tool to see the trends of searches on your company, brands, products, or campaigns; while, Facebook Lexicon would be more helpful for social marketing campaigns.
More on Digital Strategies
A Look At Singapore Airlines' Online Presence